When it comes to home decorations, the room that I always look forward to decorating all the time is the living room. I believe the living room is one of the most important rooms in the house. It's usually the first room you go into after entering a home. Guests spend most of their time here. It, therefore, needs the utmost attention in decoration matters.
With this in mind, the following are various living room decoration ideas that can be considered that can spice up the living room.
Seeing Red
Red colors might dominate the living room. The red is 'screaming' all over? What can be done to tame it? I would recommend an addition of white in some areas of the room so that the bold red color can be controlled.
Light and Airy
The living room should always feel light, and there should be air moving freely. In line with the theme of décor, furniture like an open-weave coffee table and Lucite dining chairs are suitable for making the living room not feel cramped.
All White Surrounding
White is a fantastic color to go with in the living room. However at times plain white may at times look weird or strange. To spice it up a bit, different textures like a crocheted throw or a rough-hewn linen sofa can be utilized.
Reading Section
Reading is food for the soul. A part of the living room should be set aside for this purpose. This section should be designed with the main aim of providing an environment conducive to reading.
Being Trendy
The living room should be updated with a few items, say after each season so that it is up to date with the current trends. For example the latest rug designs or a fresh coat of paint that has hit the market.
Sheer Curtains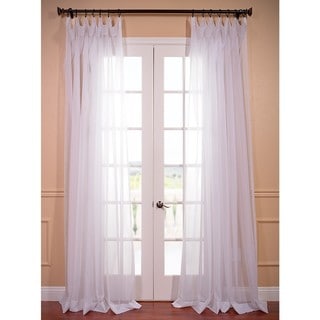 The fastest way to let light in the living room is by investing in the right curtains. Instead of heavy fabric curtains, money should be spent in purchasing gauzy curtains. The panels should go down to the floor.
Back to Back
Another décor idea that I came across is the back to back concept. Here seating arrangement can be created by placing a set of sofas in the center of the room and their backs facing each other.
Formal Arrangement of Furniture
In this situation, the living room's sofa sets are placed in an oval position. It's designed this way for entertainment purposes and also helps in keeping the focus inwards.
Unique Wall Art
We are all used to the old design of decorating our walls with family photos. These can, however, be replaced by other forms of decorations that can catch the eyes of visitors. For example music records or even instruments can be used.
Statement Seating
Couches are a standard feature in almost, if not all living rooms. However, to spice up the living room, the sofas can be supplemented with unique things like a swinging chair that can be placed in a strategic area.
Detailed Lighting
This is something that I had to take a keen interest in. The old, common way of lighting should be done away with, and in its place, new and exciting lighting designs. For example, chandeliers can be used to replace those boring bulbs.
An Attractive Bookshelf
Bookshelves do not have to be those same, old, boring shelves that we are used to seeing. There are several new ways to spice up the bookshelves, for example displaying artwork and other accessories.
These are but some of the ideas that can be incorporated in the decoration of living rooms. Frankly, there are literally hundreds if not thousands of ideas out there that can guide someone in matters of living room décor.