One of the most alluring sights in a living room is when the wind blows in, and the beautifully designed curtains are lifted up. Curtains are considered an important accessory when it comes to home decorations. When I went curtain shopping some time ago, I was spoilt for choice. There were literally hundreds of curtains to choose from. After a long search, I finally bought my curtains (expensive, but worth every penny). I like the curtains so much. They complement my living room.
So why invest your hard earned money in quality curtains?
Apart from adding some beauty and style to any room, curtains are a good form of insulation. They reduce cold and heat and also help curb noise. During hot seasons, by simply closing curtains (especially those that are lined) heat inside is reduced significantly.
When shopping for curtains, which styles should you consider?
Before buying any curtain, you should have in mind the style you prefers. I believe that each room should have its own style. For example, a bedroom window can be graced by a 2 or 3 layered curtain; one layer as a window decoration, another for privacy and the other (if present) to control the amount of light entering the room.
Which fabrics should be considered?
Fabrics are one of the key things to consider when purchasing curtains. Heavier fabric tends to not fold and drape properly when drawn. On the other hand, if a curtain fabric is lighter, falling may become a problem. Some of the recommended fabric choices are;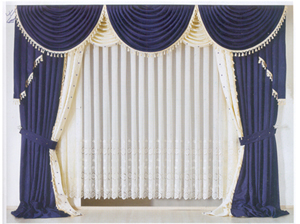 What about length and width?
Typically, curtains should be long. They should be just above the floor. This tends to increase the room's height. On the other hand, to make sure a curtain looks draped when closed, its width should be about 2 and a half times the window's width.
With this in mind, here are seven types of curtains that can be found on the market.
Box Pleated Curtains
These curtains often give out a tailored look and drape into deep folds down the full length of the curtains. The pleated appearance is as a result of the box shapes that line up next to each other. Box pleated curtains are perfect for the study or dining rooms.
Sheer Curtains
Curtains made of sheer fabric allow for a little light to penetrate through while maintaining some form of privacy. They are commonly used as secondary curtains or over blinds. They are perfect for every room. Sheers have a tab top style but can at the same time be molded into other curtain styles.
Pelmets are a decorative framework used to hide curtain fixtures at the top window casing. They are made from chipboard and covered in a decorative fabric, thus used for hiding several curtain rods in a modern way. Valances have the same function as pelmets. However, they are much softer in appearance.
Eyelet Curtains
These curtains go hand in hand with light and medium weight fabrics. They have silver rings at the header where a rod passes through. This style is suitable for kids bedrooms because the curtains hang freely, making them easy to open and close.
Tab-top Curtains
They are akin to eyelet curtains. These curtains usually have fabric loops on top and can only be hung on a rod.
Cased Heading Curtains
This curtain type is commonly used for nets and light fabrics designed not to be opened or closed regularly. Cased Heading Curtains are best suited for rooms that are not often used.
Hanging Curtains
Curtains have different hanging needs. Curtains with rings or loops should be hung on a curtain rod whereas curtains like the cased heading have curtain tape along a truck. Curtains that hang above the window usually make windows appear larger.